There are several factors to take into account when choosing a flooring option for your home, including pricing, design, and durability. But if you want a product that combines all of these advantages, go no further than vitrified tiles.
Ceramic tiles called vitrified tiles are constructed of clay and silica sand. They have a very smooth, non-porous surface as a result, making them more appealing and long-lasting than conventional ceramic tile.
They are ideal for any space in your house due to their large range of colours and styles. They can be used in the living room or bedroom as well as the bathroom, kitchen or entryway to provide fashionable yet useful flooring solutions. So no matter what kind of style you have or what budget you find yourself on, vitrified tiles may just be the perfect fit.
What Are Vitrified Tiles?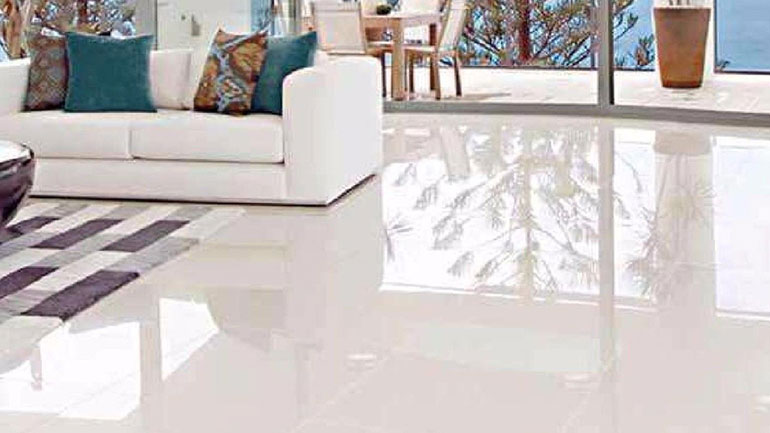 Are you seeking a floor covering choice that is both strong and attractive? You might find the perfect solution in vitrified tiles. A sort of flooring choice comprised of quartz, feldspar clay, and silica is known as vitrified tiles.
In contrast to ceramic tiles, vitrified tiles undergo a specialised process called "vitrification" that increases its hardness and density. This also provides them with additional special advantages like stain resistance and long-lasting colour. They are very simple to maintain and clean!
Additionally, Wintel's vitrified tiles are available in a wide range of appealing patterns, textures, and hues that may be matched to any type of interior design. There is a design palette out there for any taste, ranging from straightforward solid colours to elaborate patterns. You can choose the ideal tile for any area in your house, including the living room, bedroom, kitchen and bathroom, thanks to the wide variety of options available.
Kitchens: Vitrified Tiles Withstand Heat and Spills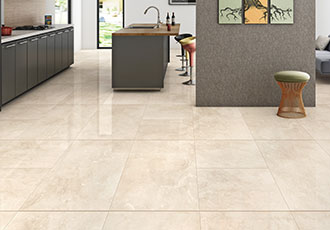 Heat and messiness are typically the first two things that come to mind when thinking of the kitchen. Ovens and stoves produce a lot of heat and can become dirty when cooking. However, vitrified tiles are made to withstand both of these forces. They are not only stain-resistant but also heat-resistant in your kitchen, so they won't break.
Because they look fantastic, endure a very long time, and are simple to maintain, vitrified tiles are ideal for kitchens. Spills that might ordinarily harm other tile types on your kitchen floor can be removed with just a simple mop or towel. Your kitchen floor will continue to look great for years to come with no care needed because of its low porosity and durability.
So, if you're searching for flooring that can withstand the rigours of daily life while still looking beautiful, vitrified tiles are unquestionably an option to take into account. They'll be resilient enough to handle anything that comes their way while yet giving your house a fashionable boost.
Bathrooms: Water-Resistant and Low Maintenance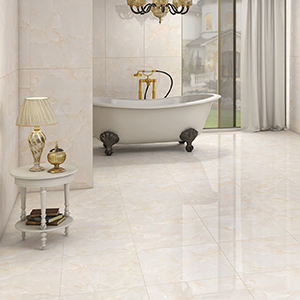 Vitrified tiles are perfect for bathrooms for a number of reasons. First of all, they are extremely water-resistant, so you won't have to be concerned about flooding or other problems brought on by too much moisture. The second benefit is that they require little upkeep; you won't need to worry about replacing or resealing them anytime soon.
Vitrified tiles won't deteriorate over time either, unlike some other types of flooring. These tiles have a long lifespan and are able to maintain their colour over time thanks to the proper glaze and material mix.
Additionally, there are so many various patterns available that you're likely to discover something that properly complements your bathroom. Whether you want a traditional marble look with realistic veining or vibrant designs and contemporary geometric shapes, vitrified tiles may make your bathroom look its best.
Living Rooms: Stylish and Durable Flooring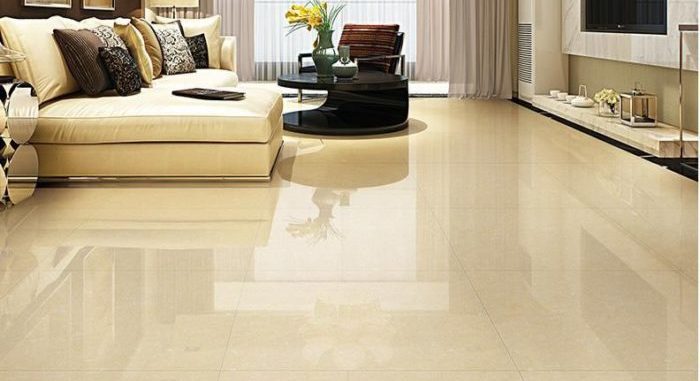 When choosing carpeting for the living room, you want to choose something both fashionable and long-lasting. The ideal answer is vitrified tiles. These tiles provide a terrific first impression on everybody who enters your home because they are highly polished and simple to maintain.
Because they are constructed from a combination of clay, quartz, and silica, vitrified tiles are extremely durable. Because of this combination, vitrified tiles are resistant to stains, moisture, and wear and tear, making them ideal for high-traffic areas of your home. You don't have to worry about having mismatched floors because vitrified tiles are available in a number of colours, textures, and designs to match any current décor in your living room!
Additionally, vitrified tiles are incredibly simple to keep and clean. Your floors will appear like new with just a quick mopping or vacuuming routine every now and then! An excellent option for busy households with active kids or dogs.
Bedrooms: Vitrified Tiles for a Good Night's Sleep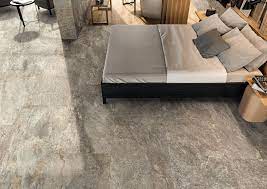 Vitrified tiles are an excellent option if you want to give your bedroom an opulent and welcoming appearance. Vitrified tiles may effectively change a typical bedroom into a haven of relaxation because of their modern appearance, water-resistant qualities, and vast range of colours and patterns available.

Water Resistant
The high temperatures utilised throughout the manufacturing process give vitrified tiles their exceptional strength and water resistance. They are therefore perfect for bedrooms, which frequently experience damp environments and spills. Additionally, it means that you won't need to be concerned about mould or water damage developing over time.

Heat Resistant
Wintel's Vitrified tiles are a terrific option for those chilly winter nights because they also offer tremendous insulation from the chilly winter months. You don't have to worry about unintentionally burning your flooring because they are also fire resistant.

Variety
An almost infinite variety of patterns and colours are available in vitrified tile, making it easy to find the ideal design for your bedroom space. There are many options to pick from, whether you're looking for something understated or something more colourful and striking. It should come as no surprise that adding vitrified tiles is one of the greatest methods to give your bedroom a stylish makeover given the versatility they offer.
Offices: Professional Finish With Vitrified Tiles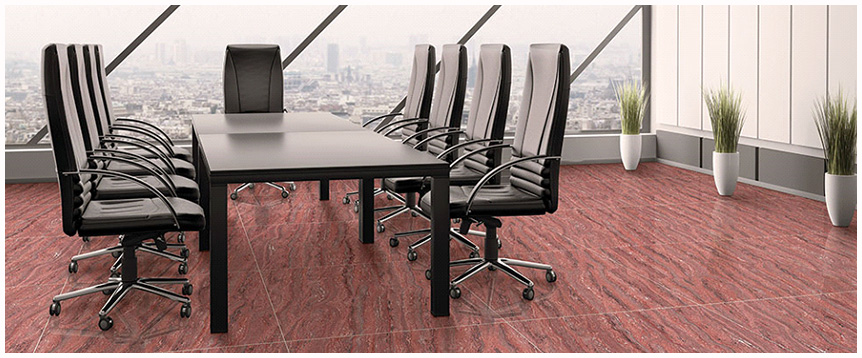 Use vitrified tiles to give your office a polished appearance that nevertheless has a contemporary feel. You have a wide range of design possibilities with this adaptable flooring option, including marble, wood finishes, and even vibrant options like mosaics and geometric patterns.
The advantages of using vitrified tiles for office flooring include:
1. Vitrified tiles are incredibly durable, which makes them perfect for a high-traffic space like an office. Your floors will always look their finest for years to come since they are scratch-resistant and simple to clean.
2. Low Maintenance: Unlike other types of flooring, vitrified tiles don't need a lot of upkeep. To keep them appearing fresh and new, just sweep and mop your floors on a regular basis. Additionally, they are stain resistant, so spills or accidents won't cause permanent harm.
3. Versatility: You may select the vitrified tile that best suits your office space thanks to the variety of colours and treatments that are available. There is something for everyone, whether you prefer something delicate and neutral or something bolder and more striking!
In terms of flooring for your office, vitrified tiles provide the ideal balance of toughness and style. Why not try them then?
Advantages of vitrified tiles:
Did you realise that there are countless applications for vitrified tiles? The use of vitrified tiles as a flooring choice has several distinct benefits in addition to being strong and adaptable.

Easy Maintenance & Cleaning
Vitrified tiles don't absorb liquids, making them simple to clean. They are therefore ideal for moist spaces like bathrooms and kitchens, where spills can happen very rapidly. Additionally, all they need is a quick sweep and a quick mop to keep them looking their best.

Stain-Resistant
The protective coating on vitrified tiles prevents them from being stained by liquids like grease, coffee, and wine. This eliminates the concern that spills would sink into the tile's surface or leave an unpleasant residue, making cleanup much simpler.

Long-Lasting & Durable
As time passes, wear and tear can be tolerated by vitrified tiles because to their high durability. You won't have to worry about replacing them after only a few years because they won't chip or crack readily like ceramic tiles can. And speaking of an investment, they can maintain their amazing looks for years with regular maintenance.
Conclusion
Wintel's Vitrified tiles are a fantastic option for flooring any space in your house because they are both adaptable and durable. They are easier to clean and more durable than other flooring options, and they are impervious to water and stains. They are available in a range of shapes and colours to match any decor. They also significantly increase the value of your house.
Always remember to consider your local climate as well as the precise place where you intend to lay your tiles before making a final choice. You should also take into account the volume and nature of foot traffic the location may experience. With the right tiles and installation, you will be sure to enjoy your new durable and stylish flooring for many years to come.

---
Article Last update: 9th May, 2023