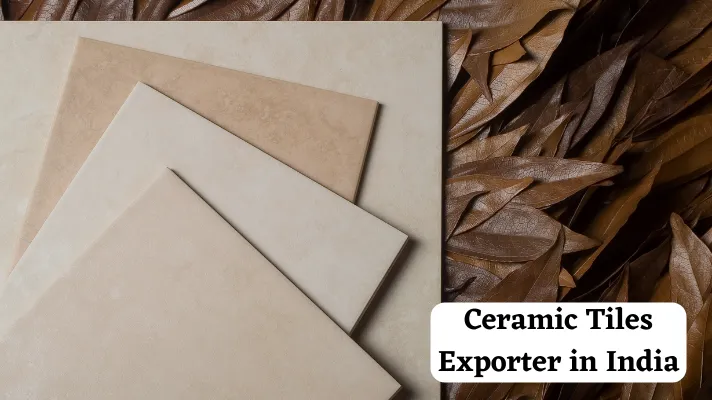 Indian homes have effortlessly taken into the concept of tiling as a flooring solution, they have gone over natural stones, marbles, and carpets and have chosen a much more popular answer. More specifically, Ceramic tiles have made their way into the majority of homes in this era itself. In a construction or renovation project it is always about which design will go well with the whole personality of the project, otherwise, given the applicability of ceramic tiles and their many advantages over other tiling solutions has made them a default choice for one and all.
Leading ceramic tiles manufacturer – Wintel Vitrified has heeded to the demanding market of ceramic tiles and has quite readily been able to meet any and all demands of their customer in the Indian domestic market and the global arenas as well. This has in turn made them a global ceramic tiles exporter and a renowned one at that.
Ceramic Tiles Exporter in India
Wintel Vitrified is a leading manufacturer of ceramic tiles in India. Being one of the largest producers, they have been able to supply a huge inventory of ceramic tiles for domestic as well global requirements. This makes them a prominent ceramic tiles exporter; their infrastructure, state-of-the-art machinery, a well-equipped warehousing facility, and their association with logistic partners across India and also globally has ensured their status.
Their cutting-edge facilities, teams of exceptionally brilliant inventors, artisans, and decision-makers, as well as their values, have all contributed to their unquenchable quest for the most extraordinary and exquisite tiles. Their R&D and Department are always coming up with the most imaginative, environmentally friendly, and practical solutions. Their Ceramic tiles have been certified by all of India's key Quality and Operation Standard Institutions, but they have also been evaluated and authorized to meet the requirements of European and other nations. Shipping and logistics are carefully documented and follow international criteria. As a result, they have been able to strengthen their roots in numerous nations, servicing both small-scale and large-scale industrial or residential demands; the brand envisions to develop further and is now well on this route.
Wintel Vitrified
Wintel Vitrified was founded in response to a diverse and pressing need for world-class Ceramic Tiles in India and its extending vision included conquering the rest of the world with the most appealing ceramic tiles. It has ascended to the highest level in just over 15 years, doing more than merely living up to the vision and mission with which it was formed. In order to keep up with the development of necessities and ever-changing décor, their tile production has been continually evolving with technological advances and creative improvements. Apart from being a globally renowned name in the best in class ceramic tiles, they are a responsible business, their environmentally friendly and ethically responsible approach to producing the finest in class Ceramic and Porcelain tiles.
Their goal is to develop and provide the widest selection of tiles, long-lasting and robust finishes, and cutting-edge style. Their Ceramic tiles are world-class in every aspect, made from the highest quality clay and combined with other fine minerals. It has undoubtedly been due to the ongoing growth of their manufacturing facility along with their most skillful workforce that has earned the name and stamped our presence in all of the major continents.
What They Offer:
Wintel Vitrified offers a long list of products in a variety of design, finish and in numerous sizes, they are applied in a variety of areas with absolute ease – they are fit for living rooms, bedroom, kitchen, hallways, etc. Their product includes:
Ceramic Wall Tiles

Ceramic Floor Tiles
These different tiles are available in different sizes such as:
300 x 600 mm

600 x 600 mm

600 x 900 mm
Why Choose Wintel Vitrified?
Wintel Vitrified is a significant ceramic tile manufacturer with a wide range of tiles available and developed over time with the latest innovations. Their tiles are well-known for their long-lasting quality, customizable patterns, and artistic appeal. Their operations and tile collections are distinguished by constant innovation and cutting-edge manufacture.
Their ceramic tiles are well-known for their elegant aesthetics, which are unrivaled among building cladding materials, as well as their low cost. Their unwavering commitment to the quality of their ceramic wall tiles is unrivaled. To produce the finest in class tiles, they execute severe quality checks at every stage of their processes. This dedication distinguishes them from their competitors, providing them an advantage.
When you choose Wintel Vitrified for your next tiling requirement, you would be investing in long-term, unrivaled product quality and assurance that comes from providing you with the most comprehensive experience, even if it is as simple as learning how to install ceramic wall tiles correctly. Their customer service is just as amazing as their ceramic tiles i.e. pleasing and completely to your satisfaction, and their reputation speaks for itself. For more information, contact us @ +91 99099 72228 or email us [email protected].
---
Read More Atrciles:
1. Difference between Full Body and Glazed Tiles
2. PGVT Tiles Manufacturer in India
3. GVT vs PGVT Tiles - The Complete Guide
---
Article Last Updated: 11th February, 2022