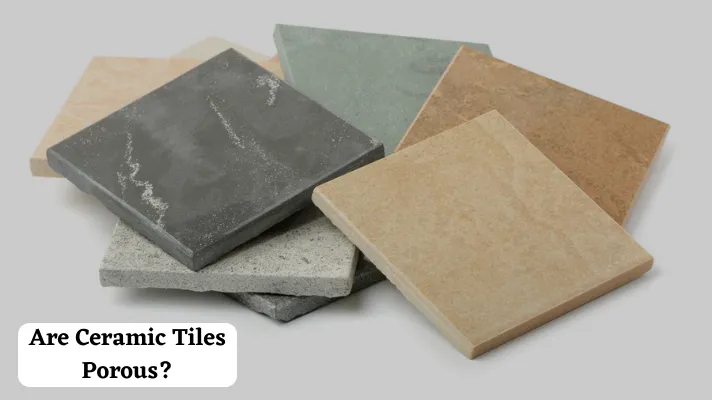 Modern technology has enhanced ceramic tiles to an extent that they can now be used in exterior applications as well. However, these enhancements still have not countered an innate issue with ceramic tiles i.e. their water-absorbing factor. Ceramic tiles are porous and when compared to porcelain tiles they absorb far more moisture.
Ceramic tiles are far less dense, lighter, and much more permeable than porcelain tiles because they are fired at a relatively lower temperature. Because the clay employed in its formulation is less polished, it is a less expensive, but much less enduring, choice. Most homes choose ceramic tiles as a tiling option, particularly in hot areas in which the inherent cooling of the tile is a pleasant advantage during the summer season.

Porosity Limits Its Application

Water-resistance is possibly the most important consideration when it comes to tiles. Though water-resistant, ceramic tiles are still more porous and, as a result, absorb more moisture. It should not be utilized in any external projects.
The new-age technologies and developments have made ceramic tiles resist water considerably, but they may still not be perfect for applications in areas such as bathrooms, kitchen countertops, etc. Porcelain tiles with a porosity of less than 0.5% seem like a perfect alternative to ceramic tiles which have limited water resistance.

Why Choose Ceramic Tiles If They Are Porous?

Ceramic tile is a flexible and cost-effective alternative for customers looking for a large volume of tiles. This is not only less expensive than porcelain, but it is also simpler to place. Because ceramic tile has a relatively soft surface, homeowners can cut it with a basic tile cutter easily compared to the significantly more difficult procedure of slicing porcelain tile.
Furthermore, ceramic tiles have an appealing smooth surface, and the long-lasting glossy surface may be personalized in a wide range of colors and designs.

When Not To Use Ceramic Tiles?

Ceramic tile is not as resilient as porcelain, and owing to its reasonably high porosity rate, customers need to clean up any excess water fast before it settles down. Ceramic tile should be avoided in locations that are repeatedly susceptible to water, like the bathroom and outdoor deck. In addition, because of its proclivity to retain water, ceramic tile necessitates regular thorough cleaning.
The tile's cooling may feel wonderful in the summertime, but it may also be painfully frigid in the wintertime. Ceramic tiles are glazed, and if the tile fractures or chips, the clay element behind the enamel will surface visibly. Ceramic tiles must be used in locations where there is little or no foot movement.
Since ceramic tiles allow water to seep through they also are prone to germs and fungus formation underneath, and eventually may come in the way of the overall hygiene of your home. Hence, it is suggested not to use them around areas where water cannot be avoided.

How To Maintain Ceramic Tiles Aesthetic?

Though ceramic tiles are porous and may allow water to seep through with careful application and usage you may be able to make the most out of this popular tiling option. It is simple to keep ceramic floors looking excellent for years with a little self-discipline.
Clean or wash your ceramic floor every week to provide room for simpler cleaning. Finally, use a washcloth or microfiber rag to quickly dry the whole area. Ceramic tiles are permeable but that does not mean they cannot be used in areas that are prone to moisture. In fact, with regular care and upkeep, you may be able to prevent any water damage to the tiles and retain the beauty of ceramic for a long time.
If you are looking for ceramic tiles manufacturer, consider Wintel Vitrified. For more information, contact us @ +91 99099 72228 or email us [email protected].
---
Read More Atrciles:
1. Difference between Full Body and Glazed Tiles
2. PGVT Tiles Manufacturer in India
3. GVT vs PGVT Tiles - The Complete Guide
---
Article Last Updated: 3rd May, 2022