Picking the right flooring for a space can be tricky—especially if it's an area of your home or office that sees high foot traffic. It can feel like you're walking a tightrope: Do you want to err on the side of durability or beauty?
Well, what if you didn't have to choose? What if you could have both? Introducing full-body porcelain. This flooring type provides strength and durability against even the toughest conditions, all while boasting stunning visuals.

Whether it's a busy office building or a bustling family home, full-body porcelain won't let you down. It stands strong against scuffs and scratches as well as everyday wear and tear, so you can truly relax without worrying about what your floors will look like 5 years from now. In this article, I'll share my top tips for choosing full-body porcelain tile. Enjoy!
What Is Full Body Porcelain?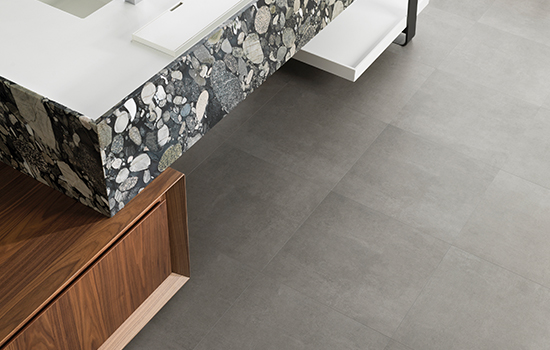 Would you love to have the look of natural stone tile in your home, but don't want it to be easily damaged? Full-body porcelain tile is the perfect material to accomplish that! It's a type of tile that has color protection through and through, as the pigment and pattern run throughout the entire layer.

This makes it great for areas where there will be high foot traffic. The surface of full-body porcelain can withstand wear and tear much better than tiles with a printed surface layer. It's durable enough to last for many years, no matter how often someone steps on it. Plus, it doesn't require a sealant like other tile varieties, so your floor won't need as much maintenance over time.

Full-body porcelain is also incredibly versatile in terms of design and colors. You'll find a range from classic whites, blacks, and grays, to more unique colors such as light green or antique gold. No matter which hue you choose, you can rest assured that your floor will stay looking beautiful for years to come!
Advantages of Full Body Porcelain for High-Traffic Areas
If you're looking for a long-lasting, hard-wearing, and modern tile solution for your high-traffic areas, full-body porcelain tiles are a perfect choice. Not only are they highly durable and able to withstand heavy footfall, but they also boast a range of benefits that make them ideal for any flooring project.
Here's why you should consider investing in full-body porcelain tiles for high-traffic areas:
Low Maintenance: Full-body porcelain offers minimal upkeep, allowing you to spend more time on other aspects of your project instead of maintaining the flooring.

Stain Resistance: Thanks to the impervious nature of these tiles, they won't absorb spills or stains—so it's easy to keep them looking like new.

Slip Resistance: Full-body porcelain offers excellent slip resistance, so it can be safely used in areas where there is a risk of slipping or skidding.

Long Lasting: If cared for properly, these tiles can last up to three decades! This makes them suitable not only for high-traffic areas but also for low-traffic ones since you won't have to replace the flooring any time soon.
The Different Types of Full Body Porcelain
Are you the type of person who needs a convincing argument? Well, here it is: full-body porcelain tile is perfect for high-traffic areas — but not just any type of tile. To get the most out of full-body porcelain, it's important you know the different types available to you.
Glazed porcelain is non-porous and easy to clean and maintain. It typically has a glossy or matte finish, which makes it a great choice for high-traffic areas like kitchens and bathrooms. It's also very resistant to scratching and stains.
Unglazed porcelain has a more natural colored surface that gives it an earthy look and feels, making it perfect for rustic settings. This type is more durable and stain-resistant than glazed porcelain, however, it may require a special cleaning product to protect its surface.
Textured porcelain has surface finish options like leather, stone, or leather that add dimension to the area—ideal if you are looking for something a little different. It's extremely resistant to scratches and stains and is great for high-footfall areas like entrances and hallways.
Tips for Selecting the Right Full-Body Porcelain Tile
If you're looking to get your feet wet with full-body porcelain tiles, there are a few things to keep in mind when selecting them.

As mentioned earlier, full-body porcelain tiles are incredibly durable. The surface of the tile is fired at a much higher temperature than regular porcelain, which is why it's far less porous and perfect for high-traffic areas. When comparing different tiles, make sure to check the PEI rating (the Porcelain Enamel Institute's rating for tile abrasion resistance). A PEI III or higher rating is typically recommended for any type of commercial flooring where heavy foot traffic is expected.

When it comes to maintenance, full-body porcelain tiles require very little upkeep and are fairly easy to keep clean — no waxing or polishing necessary! All you need is a damp mop and some mild detergent to do the trick. Be sure to occasionally check and if necessary repair any grout lines that may have become cracked over time.
Style

Finally, full-body porcelain comes in a wide variety of styles and colors — so you can easily find something that matches your décor! There are many different design options available, including stone looks, wooden looks, and more modern designs to suit whatever style you're going for. With so many options available, it's easy to find something that works for your space.
Installing and Maintaining Full Body Porcelain Tile
Many people don't realize just how easy it is to install and maintain full-body porcelain tile. With the right preparation and tools, installing full-body porcelain tile is no problem.

You don't need to be a professional tile installer either; you can DIY! The process is simple:
Prep your space by removing existing flooring, laying down subflooring, and using spacers and a straightedge to ensure a uniform grid pattern for your tiles

Prep your tiles for installation by cutting them to size, as needed

Set the tiles into the wet mortar bed in your desired pattern

Let the tiles dry completely before grouting

Seal and seal again with a sealant specifically designed for full-body porcelain tile
Maintaining full-body porcelain tile is also straightforward: just sweep or vacuum regularly and mop when needed, making sure to use a PH-neutral cleaning solution so you don't damage the sealant. Avoid abrasive cleaners and scrubbing pads, as they can scratch or damage the surface. And that's it! Full-body porcelain tile stands up beautifully in high-traffic areas with minimal maintenance needed—talk about low-fuss flooring!
Different Sizes and applications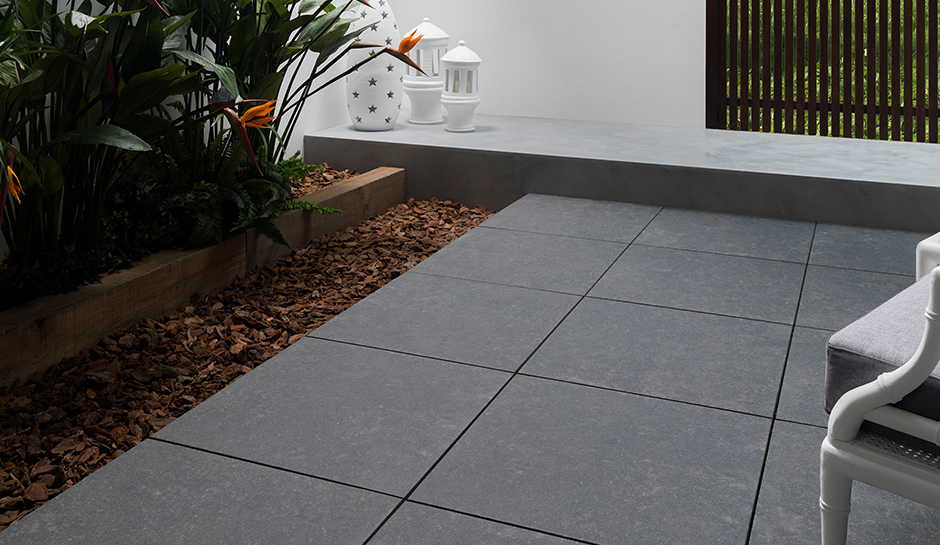 Full Body Porcelain is available in different sizes, which makes it perfect for high-traffic areas. Whether you want to tile your entire entryway or just a small portion of your kitchen or bathroom, Full Body Porcelain gives you plenty of options.

Unlike ceramic tile, which can chip and crack, Full Body Porcelain is incredibly strong and durable—and it's designed for commercial and residential use. Most commercial applications require a minimum durability rating that only full-body porcelain tile can meet.

Plus, since it's available in different sizes—from tiny mosaics to large format tiles—you can mix and match them to create unique designs. Also, the wide variety of colors and textures available makes it easy to find something that matches your style and décor.

Full-body porcelain is one of the most versatile options when it comes to tiling high-traffic areas. It has superior strength and durability compared to ceramic tile and comes in a range of sizes, colors, and textures so you can find the perfect fit for your needs. Plus, the fact that you don't have to seal Full Body Porcelain means less maintenance over time!
Conclusion
To conclude, full-body porcelain offers several advantages compared to other tile types and is perfect for areas that have high traffic. It is highly durable, easy to clean and maintain, and is also esthetically pleasing.

There's no denying its numerous benefits when it comes to full-body porcelain. Whether used in a home or a commercial setting, full-body porcelain is the ideal choice for areas with heavy footfall. Installation is easy and the tiles can be used to create wonderful designs that can last for years. So, why not give full-body porcelain a try in your next project?
---
Article Last Update : 6th April 2023