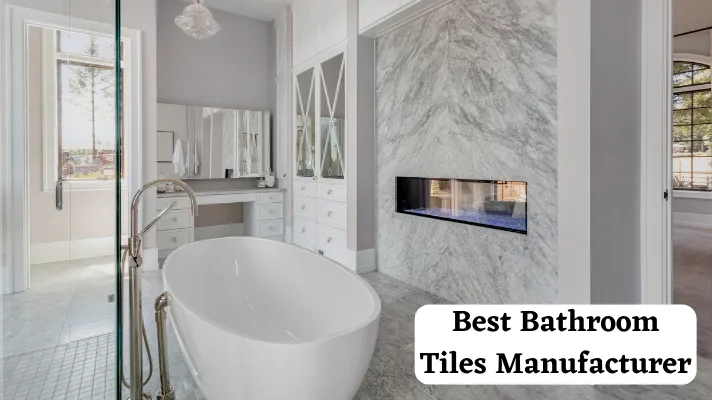 If you are in the final stages of your construction or if you're planning a bathroom remodel and aren't sure where to begin with flooring or shower cladding, look no further than tiles. Porcelain tiles are used in bathrooms all over the globe. They are an easy choice given that their practicality and aesthetic benefits trump any other cladding solution. Bathroom tiles supplier and distributors have had their hands full when it comes to fulfilling the needs of a bathroom since the porcelain tiles are so much in demand, and why not – they are the best.
Wintel Digital Vitrified Tiles
Wintel places a premium on service quality and recognizes the importance of all structural characteristics, which has catapulted them to global prominence. Wintel Vitrified is known for providing high-quality porcelain tiles with unmatched premium appearance and affordability. Their unwavering commitment to producing the highest-quality porcelain bathroom tiles is unrivaled, which makes them a leader in the bathroom tiles supplier category. In order to give the best-in-class tiles, they conduct quality control checks at each stage of their processes as a porcelain tile manufacturer. Their state-of-the-art facilities, as well as their ideas and teams of extremely brilliant architects, artisans, and decision-makers, have all contributed to their never-ending search for the most distinctive and beautiful tiles.
What Else Do They Offer?
Apart from specializing in bathroom porcelain tiles which are rich in all the qualities of basic porcelain, these tiles have been engineered for optimum output, they also offer a wide variety of other tiling solutions.
Wintel as a major bathroom tiles distributor has a huge selection of porcelain tiles on offer, the same may be categorized under different categories. They offer their tiles in a wide size range including 30 x 60 cm, 60 x 60 cm, 60 x 90 cm, 60 x 120 cm, 80 x 80 cm, 20 x 120 cm. Also, their porcelain tiles are available in different finishes such as – Glossy, Matt, High Gloss, Polished. The porcelain tiles are available and classified under several looks including, Elevation, Kitchen, Bookmatch, Morocco, Hard Matt Carving, Wood, Polish Carving, Rustic, Satin, Matt Glossy. Wintel Vitrified does not just specialize in bathroom tiles but is well suited for multifunctional usage in different spaces, they offer porcelain tiles and slab for the following space category as well:
Bathroom, Kitchen, Living Room, Indoor, Outdoor. And they have engineered their top-class porcelain tiles to mimic the quality and look of natural materials like Stone, Wood, Marble, Concrete.
Why Choose Porcelain Tiles For The Bathroom?
Why choose porcelain tiles for the bathroom in the first place, the below reason will support the argument and is fact enough to choose it over other tiling solutions.
Cost-Effectiveness
Yes, agreed, it is a bit expensive as compared to other tiles in the market but in the long run, unlike any other tile it does not require periodic maintenance nor does it need to be tended for cracks or chips as their composition makes them long-lasting and durable throughout its life.
Water Resistance
Probably the one reason that displaces any other tiles out of contention. Porcelain tiles are highly recommended for their innate manufactured property of water resistance, they have very low porosity. At Wintel, their tiles are processed at a very high temperature which goes up as high as 1200 degrees Celsius, which gives the tile its strength as well nonpermeable character which is so very important in a bathroom.
Visually Stunning
Who said, the practice cannot be appealing. Porcelain offers a wide range of design possibilities, from size and shape to color and finish. Wintel Vitrified bathroom tiles come in a variety of styles, including wood-look, glossy white, natural stones, and much more. Immerse yourself in one of the most aesthetically pleasing flooring solutions.
Multi-Application
Their porcelain tiles are not just the perfect fit for the flooring of the bathroom but seamlessly work with the walls too. Because of their qualities, they are one of the most practical solutions for showers walls too.
Wintel Vitrified resolute determination and dedication to be the best bathroom tiles distributor in the world has been rewarded with a long list of delighted customers from all over the globe. Whether it's for a relatively smaller project or a large construction project they have been able to produce and deliver the best porcelain tile within the requisite budget.
Their pre-sales and after-sales service which includes a highly-organized and committed round-the-clock customer service team has been assigned to answer any and all doubts and walk the customers through a seamless and hassle-free purchase and installation.
They have been able to supply the greatest porcelain tiles to all corners of the globe thanks to their skilled personnel and inventive applications of the best manufacturing techniques, with the help of the most modern in-house manufacturing facility. Whether it's producing, creating, shipping, distributing, or providing custom requirements, they have been able to meet each and every need of their esteemed customer, they have completed every request with full conviction and ultimate service quality all over the world. For more information, contact us @ +91 99099 72228 or email us [email protected].
---
Read More Atrciles:
1. Difference between Full Body and Glazed Tiles
2. PGVT Tiles Manufacturer in India
3. GVT vs PGVT Tiles - The Complete Guide
---
Article Last Updated: 25th January, 2022
---