Glazed Ceramic tiles are recognized for their robustness, which ensures that they will last a sustained duration. Wintel Vitrified Tiles offers 300 x 600 mm glazed tiles in a variety of colors, shapes, sizes, finishes, and patterns. The glossy surface of a ceramic glazed tile is not easy to achieve. Manufacturers employ a variety of technologies to glaze tiles. Wintel applies many layers of glaze substance to the tiles prior to firing them in the furnace.
30 x 60 cm glazed tiles are simple to maintain. They are tear, odor, and dust resistant and may be washed with a moist mop, brush, or other treatments. Glazing ceramic tiles extend their lifetime. Furthermore, glazed tiles are environmentally beneficial because they are often made from organic resources and do not contain smells, allergies, or pathogens.
One advantage of ceramic glazed tiles is their fire resistance. The placement of hot pots and pans on the top would not dissolve the coating or lead the tile to destroy. Even just a lighted flame tossed on a tile and let to sit would not harm it. Glazed ceramic tiles are impervious to many of typical fluids, so even the worst vexing and nasty mishaps will not harm your flooring.
As the top 300 x 600 mm wall tiles manufacturer in India, Wintel Ceramics is the top-notch creator of 1by2 glazed ceramic tiles. Their glazed tiles are the perfect example of modern ingenuity and appealing aesthetics. Wintel has established itself as the leading manufacturer and exporter in India and is on the path to taking over the world with its superior quality glazed ceramic tiles.

Leading Exporting Company of 300 x 600 mm Glazed Tiles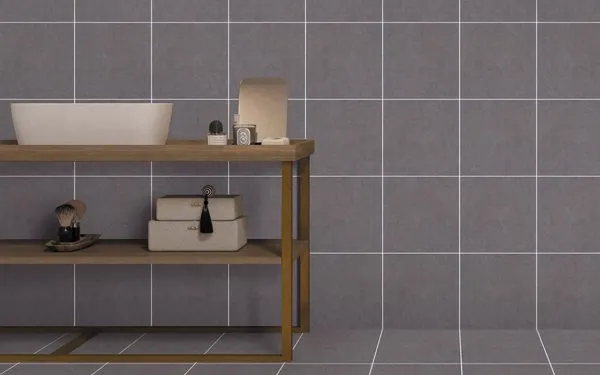 Wintel Ceramic is the best exporter of 300 x 600 mm glazed tiles in innumerable countries all around the world. They are the leading manufacturer of the finest quality glazed ceramic tiles and Wintel exports most of its ceramic tiles to the USA. Ceramic tiles are quite adaptable and may be used in a number of settings.
Here are some examples of places where ceramic floor tiles and ceramic wall tiles can be used: Bathrooms, Kitchen, Living Room, office Commercial Areas, Bedroom, Dining Room, Terrace, Balcony Parking Lot, Swimming Pool Area, Outdoor Space, Porches, Pathways, Restaurants, Bar, Stairs Or Steps, and many more places
Glazed Ceramic tiles are an excellent option for most locations, particularly the interiors where it just magnifies the over the appeal of the place because they are robust, anti-slip, low-maintenance, frost and waterproof, and reasonably affordable. As a top wall tiles exporter in India, Wintel Vitrified has been at the top of its game with world-class tiling solutions for each and every need.
The brand exports premium quality of 300 x 600 mm Glazed Tiles to all corners of the world and to the most demanding nations. Irrespective of the project size, the company has been more than capable of fulfilling the requirement of that project ably and most effectively. One of the most crucial attributes to its brand's success has been its reliability and quality which has not been compromised even with all the growing competition and steady innovations.

Our Collection of Glazed Ceramic Tiles

Wintel Vitrified offers one of the country's most imaginative wall 300 x 600 mm tiles collections. Their glazed ceramic tiles are offered in the following 3 exclusive categories:

1. ARC Collection GRENIC
An exclusive collection of glazed ceramic tiles that are inspired by the irregularity of typical features of everyday life. It is an inventive stone-effect collection range of tiles that brings together the natural organic appeal of walls and hedges and binds together the overall aesthetic of any décor.

2. Stonehenge Collection
The Stonehenge collection brings about the ingenious modern wall tiles designed into the most fertile themes that will mesmerize your senses like no other. The collection is contemporary and yet brings together the classic elements seamlessly.

3. Spanish Collection
A warm and artistic value that gradually blends the rustic yet fashionable themes and highlights the desired décor for minimalistic or vibrant visuals. The Spanish Collection is a classic example of innovation and adaptability.

Why are we the best exporter from India?

Wintel Vitrified was established in response to the increasing desire for high Ceramic Vitrified Tiles. Wintel Vitrified has been established producing a few of the greatest tiles on the marketplace ever since beginning in 2007. There is no reason to suspect that they hit riches with our steadfast endeavours to deliver to you the most inventive and best-in-class goods of the 21st century, having never budged from their original intention of continuously compelling ourselves and outshining ourselves in the development of the most high quality products.
Wintel Vitrified is regarded as the best 300 x 600 mm Glazed Ceramic Tiles Exporter from India. We have earned this recognition by the sheer commitment to product quality and the reliable services associated with it. The experience of 15 ayears and counting has earned us a strong client base all across the globe and the result is evident as 40% of our entire production is consumed outside the Indian domestic market.
With an extensive and concentrated quality control management, our drive to search for the latest innovations and a customer-centric business model has us at the pinnacle of manufacturing of finest quality glazed ceramic tiles, not just in the country but all over the world.

FAQ'S

Is glazed tile slippery?
Glazed ceramic tiles are often thicker and less permeable than other tiles. This implies they are very water-resistant, rendering them ideal for high-traffic areas such as the kitchen or bathroom. Although it might not be obvious from their glossy appearance, glazed ceramic tiles would be no more prone to fall on than matte finish tiles. Moisture will undoubtedly create glossy tiles extremely slippery, but this can be stated for just any kind of flooring.
Are glazed tiles waterproof?
Glazed Ceramic Tiles are simple to place and retain minimal moisture, keeping them simple to actually clean and upkeep. Moisture that has accumulated on the faces of ceramic tiles, on the other hand, is readily wiped away. It's applicable for either the walls or the floor. Glazed tiles are often thicker and far less permeable than other options. This ensures they are very water-resistant, making them perfect for high-traffic areas such as the bathroom or kitchen. For more information, contact us @ +91 99099 72228 or email us [email protected].
---
Read More Atrciles:
1. Difference between Full Body and Glazed Tiles
2. PGVT Tiles Manufacturer in India
3. GVT vs PGVT Tiles - The Complete Guide
---
Article Last Updated: 15th August, 2022